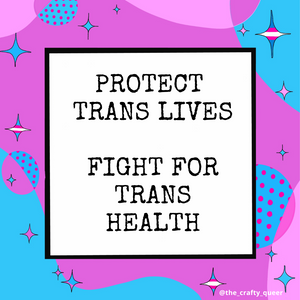 How Your Public Commentary Can Impact Trans Lives
This is a call to action! You can help steer trans healthcare forward!
What's going on?
The WPATH (World Professional Association for Transgender Health) is updating its Standards of Care (SOC). A draft has been released and it is open to public comment through Thursday, December 16th.
What's so important about the SOC?
The SOC informs decisions made about how to treat transgender, nonbinary, 2spirit, and intersex people.
It determines who is able to access trans healthcare and how insurance companies decide what is "medically necessary" for the treatment of gender dysphoria.
So what's the problem?
While there are many improvements in the newest version of the SOC, there are some serious problems that need to be addressed before the final version is released. 
This could impact how transgender people receive healthcare for decades to come.
What can I do?
Participate in the public feedback process by Thursday, December 16th. 
There is a lot of transphobic rhetoric out there and we need people who support trans equality to add feedback to improve the new guidelines before they become final. 
To get started, here are some chapters of concern and proposed solutions.  Follow the SurveyMonkey link for each chapter to add your commentary.
Chapter: Adolescents
Issues:
Legitimizes transphobic junk science like "rapid-onset gender dysphoria" and the debunked hypothesis of "social contagion" causing people to identify as trans 
Advocates for extensive gatekeeping and documentation before trans adolescents can access HRT
Solution: 
Restore the fundamental right of bodily autonomy to trans adolescents and use informed consent models
Submit comments on Adolescents Chapter
Chapter: Children
Issue: 
The risks of social transition for pre-adolescent children are greatly exaggerated, speculative & hypothetical.
Solution: 
There are proven benefits of social transition for trans children.

The decision to socially transition must be up to the transgender person alone.
Submit Comments on Children Chapter
Chapter: Intersex
Issue:
 "Parental distress" over the genitals of intersex people is considered a factor in the decision to perform medically unnecessary surgery 
Solution: 
Prioritize the bodily autonomy of intersex people and stop ALL surgeries on nonconsenting infants or young children
Submit Comments on Intersex Chapter
Chapter: Hormones
Issue: 
An omission of an important medication in the suggested hormone regimens for trans women & trans femmes. 

This

may make it much more difficult for trans people to access progesterone through insurance.
Solution:
Include progesterone as an option in gender affirming hormone regimens
Submit Comments on Hormones Chapter
What should I do next?
✔ Share this with your networks 
Encourage your colleagues, friends, and family to participate in the public comment process.
✔ Stay vigilant and informed
Continue to education yourself on policies that impact the lives of transgender people.
✔ Continue to fight for the rights of all transgender people
If you are cisgender, use your privilege to advocate for the rights of transgender people. Listen to transgender people, amplify our stories, and center our needs.
---