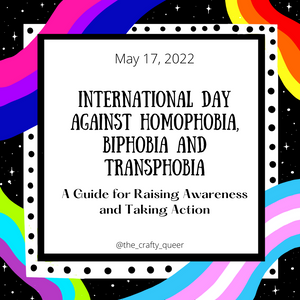 International Day Against Homophobia, Biphobia and Transphobia
What is International Day Against Homophobia, Biphobia and Transphobia (IDAHOTB)?
On May 17, 1990 the World Health Organization removed homosexuality as a mental disorder.
Each year on May 17th, IDAHOTB is celebrated to raise awareness of the violence, discrimination, and repression of LGBT communities worldwide
What is Homophobia, Biphobia, and Transphobia?
Homophobia, Biphobia, and Transphobia are a  range of negative attitudes and feelings, including hatred, prejudice, discrimination, and violence and feelings toward people who do not conform to heterosexuality or social gender expectations
About Intersectionality 
Interlocking systems of power and discrimination that affect those who are most marginalized in society. Those facing intersectional oppression, for example, Black trans women, are disproportionately at risk of violence across the globe. 
The Statistics
Globally
As of 2019, 69 countries still criminalize same-sex relationships.  

Over 2 billion people live in countries where homosexuality is illegal. 

The death penalty is a legal punishment for consensual same sex relationships in 11 of these countries
The Statistics - Nationally
According to 2010 Hate Crimes Statistics, 19.3 percent of hate crimes across the United States "were motivated by a sexual orientation bias"

Research by Stonewall, an international LGBT charity, found that one in five LGBT people have experienced a hate crime because of their sexual orientation in the past year.
Over half of trans people have been subjected to a hate crime due to their gender identity.
In 28 US states there are no explicit state level protections for LGBT employees. In these states, people can be legally fired for simply coming out as gay, lesbian, transgender, or bisexual at work. 
What needs to happen
States and countries must take a leading role in the fight against LGBTIphobia, including: 
Enacting laws that protect and promote LGBTI+ people's rights

Holding trainings for key public officials such as members of justice and health systems

Leading awareness-raising campaigns

Banning conversion therapy

Affirming the right to workplaces free from harassment and violence
Stay Informed and Support the Work
This year, the global campaign theme is "Resisting, Supporting, and Healing Together," and aims to recognize LGBTI+ activists and organizations around the globe. You can support LGBTI+ activists nationally and internationally through these organizations:
All Out
works to build a world where no one has to sacrifice their family or freedom, safety or dignity, because of who they are or who they lovey
National LGBTQ Task Force
an American social justice advocacy non-profit[1] organizing the grassroots power of the LGBTQ community.
Immigration Equality
advocates for and directly represents LGBTQ and HIV-positive people in the immigration system
Transgender Legal Defense and Education Fund
committed to ending discrimination based upon gender identity and expression and to achieving equality for transgender people through public education, test-case litigation, direct legal services, and public policy efforts
 In conclusion
Everyone in society has a role to help create a safe environment where everyone can flourish and live their lives to the fullest.
---