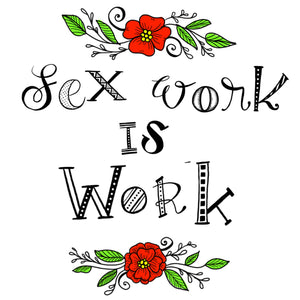 Sex Workers Rights Are Human Rights
Today is International Day to End Violence against Sex Workers, a day to raise awareness and fight for the human and labor rights of all sex workers. Sex work is serious racial and a gender justice issue. Sex workers of color, in particular, trans sex workers of color, experience disproportionate rates of arrest and assault compared to their white and cis counterparts. We must work to stop the policing and incarceration of sex workers. Working to decriminalize sex work is a powerful way to protect the rights and safety of sex workers.  Here are some more steps you can take to support the sex worker community:
Educate yourself. Here is a good place to start:

https://swopusa.org/learn-about-sex-work/
Follow and support sex work activists. Here are some Instagram links for organizations and individuals to start with:
Support political campaigns that advocate for law reforms seeking to decriminalize sex work. The policing of sex work exacerbates stigma, compromises access to resources, justifies violence, and is steeped in racial disparities. The Decrim NY coalition is working to decriminalize, decarcerate, and destigmatize people who engage in sex work. They have great resources to learn about current law reforms and how you can get involved.
Learn and acknowledge the violence and hate crimes enacted on sex workers in this country and across the globe. Honor the lives lost and learn how you can prevent future violence. Read more here.
Learn how Instagram harms the sex worker community and fight against their discriminatory policies. Follow @bloggeronpole for more resources and ways to take action.
Understand that sex work is real work! Sex workers deserve human and labor rights like anyone else in the workforce. Sex workers are at risk for violence, incarceration, and stigma. Protecting the labor rights of sex workers is paramount.
Understand

SESTA/FOSTA

as well as difference between Human Trafficking and consensual sex work. Attacks on the rights of sex workers are often camouflaged as efforts to stop sex trafficking. Learn more about the problem here.
Stop the stigma. People who engage in sex work are marginalized and criminalized for the choices they make about their own bodies. Follow and uplift the voices of sex workers, particulary queer and trans people of color. Start conversations about decriminalization and sex workers right, and shut down conversations that seek to delegitimize the labor and human rights of sex workers.
Commit to continuous learning and advocacy. Here are some more resources to support your efforts:
SWOP Behind Bars
https://www.swopbehindbars.org/
Sex Workers Outreach Project-USA
Urban Justice Center - Sex Workers Project
St. James Infirmary
Decrim NY
HIPS
https://www.hips.org/about.html
The Black Sex Worker Collective
https://www.blacksexworkercollective.org/
Support Ho(s)e Collective
Urban Justice Center Sex Worker Project
---